Viewable online at the British Library is a fragmentary codex of Exodus (containing Exodus 1:1-8:5 in 21 folios, including covers) with Hebrew transliterated into Arabic, but with traditional Hebrew vowel points. The work is incredible and beautiful and dates from the 10th century. It was purchased from an antiquities dealer in Jerusalem in the 19th century.
Here's a summary of the contents from the British Library:
Fragments of Exodus (chapter 1:1-8:5) written in Arabic characters..Fols 1r-21vTitle: Torah.Title: תורה. Note: The system of transcription from Hebrew into Arabic characters is literal.. The Hebrew text is written in Arabic characters, with ordinary vowel-points (in red) and the accents (in green) added subsequently. Decoration note: 2 carpet pages in gold, red, and brown.. (Fols 2v-3r). Decoration note: Numerous space fillers in colours and gold.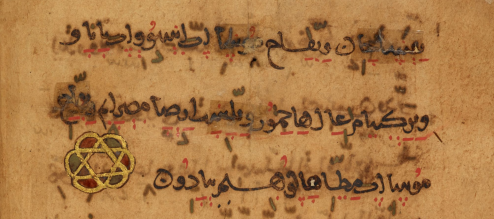 The description on the site further notes: "Parasha Ṿa-era is marked by فرس' [actually فرسه] in gold in the margin. The punctuation is provided in red ink and the accents in green ink." Parashat Va-Eira is the Torah reading of Exodus 6:2-9:35. The image below shows the marking of the Parashat in the margin to the right: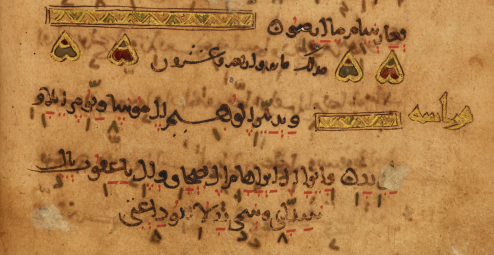 View the complete manuscript here at the British Library website.
Images from the British Library.