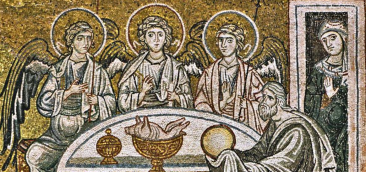 At the entrance to his tent, over a meal, under the shade of a tree Abraham met God . . . and on a walk together, the two of them negotiated justice & mercy (Gen 18).

Chris Tilling has posted the following quote from Ernst Kasemann:
'Every simplification which forces the original variety of voices [of the biblical text] into a well trodden path, is sin against the Spirit'!

—(from his essay "Justification and salvation-history in Romans"
in Pauline Perspectives – Tilling's translation from the German original, p. 118)
One thing that I have learned from my graduate work in biblical studies is that we too often blur and downplay the Biblical message by harmonizing passages which should rather be read distinctly.  Often those of us who believe that the Bible is Divinely inspired so quickly want to mute, under the auspices of "the whole counsel of Scripture," the tensions within the Bible that are created by the individual authors.